You're drowning in content. We get it.
To be successful, you need to understand the external business landscape.
Currently, there's no timely way to build this knowledge.
There's not enough time to follow the news thoroughly

"Three in four people say they feel overwhelmed some or all of the time by too much information from magazines, newspapers, and other media."

Wall Street Journal · March 10, 2015

The Internet is full of unreliable information

"Wikipedia, the on-line encyclopedia, contains errors in nine out of ten of its health entries, and should be treated with caution."

BBC · May 28, 2014

Social media is not an effective content filter

"There is no relationship whatsoever between the amount a piece of content is shared and the amount of attention an average reader will give that content."

Time · March 9, 2014
Versed offers the best content anywhere on key business topics
We curate articles, videos and other content from the most reputable sources into concise tracks. Our tracks are updated daily and they cover trending topics, macro forces and other subjects relevant to global business.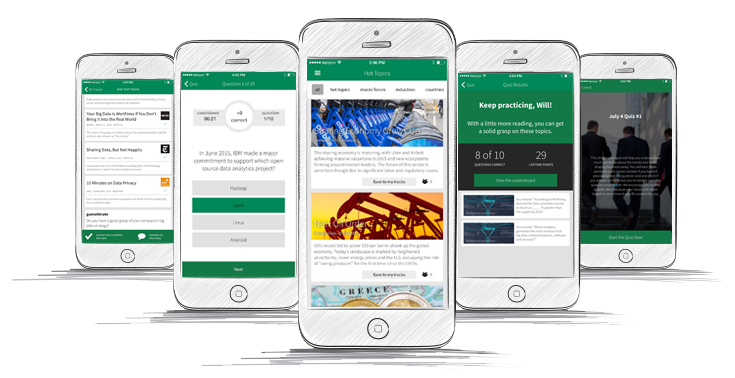 You build substantive knowledge, evaluate what you know and receive personalized feedback
You become conversant in key subjects so you can apply this knowledge in sophisticated business settings. Custom content recommendations and social features make "getting versed" both a personal and collaborative activity.
Learn how to get versed
Organizations choose Versed because it empowers top talent and provides a clear picture of how they learn
L&D teams contribute content, gain valuable information and see improved employee performance
Organizations contribute their own content to tracks and pose their own poll-like questions.
Customized dashboards allow companies to better understand employee learning preferences.
Versed users quickly become more confident, productive and engaged.
Learn how to get versed
"Cutting edge business acumen sets leaders apart. Versed is redefining how people get real-time, comprehensive learning on the trends and issues that matter most in today's dynamic environment."
Tom Evans, Former Chief Learning Officer at PwC and Versed Advisory Board Member
Who we are
John Tolsma, Chairman & Co-Founder

John is the founder and CEO of Knowledge Launch, an award-winning educational services company that pushes the limits of corporate education through the use of simulations and live events for clients such as Shell, American Express and Boeing. He is a Phi Beta Kappa graduate of Duke University and he holds an M.B.A. from Harvard Business School and a law degree from Harvard Law School.
LinkedIn

Will Alexander, Co-Founder

Will is the former chief of staff of the Tennessee Department of Economic and Community Development, where his leadership helped Tennessee become the top state in the nation for foreign direct investment. Prior to public service, Will practiced corporate law in Austin and Abu Dhabi for Vinson & Elkins. Will is a Phi Beta Kappa graduate of the University of Texas and he has a law degree from the University of Texas School of Law.
LinkedIn

Florent de Gantès, Co-Founder

Florent is a former product manager at Google, where he led the development of cross-screen advertising platforms used by media companies. Prior to Google, he worked in management consulting at A.T. Kearney in Paris and corporate strategy at Orange in London. He is a graduate of Centrale-Supelec in Paris and holds an M.B.A from MIT Sloan School of Management as well as a Master of Science in Mobile Communications.
LinkedIn
Get in Touch
Contact us today to learn how to get Versed for your company